JEM ROCK Website! For a less "twisted" look, please MAXIMIZE your browser to it's full position!

Jem hungry...
So what do you do when you've watched evey episode four hundred times, have all the dolls and playsets, and one every piece of merchandise Hasbro has to offer? I'm stumped!!!

JEM and the Holograms
Jem originated when Jerrica Benton's father created a machine that could produce holograms of things and even change appearances. Starlight Music and Starlight House were under deep stress until Jerrica uttered the words that would change her life forever--"Showtime Synergy!" These words transformed her into the biggest rock star ever by changing her appearance from Jerrica to "Jem"! Thus forming the band "Jem and the Holograms". Since Jerrica's newfound stardom with Jem, they've been the hottest rock band around! Jem/Jerrica is the leader of the group, always wonderful and able to lend a helping hand, she sometimes works herself too much. Jerrica's boyfriend of many years, Rio, is in love with both Jerrica and Jem, but knows not that they are the same person. Jem also cannot resist the Stingers' leading man, Riot. Kimber is Jerrica's younger sister and often deals with feelings of being left out of the band. She can't decide on which man she wants to settle down with or what she wants to do! Aja is the tomboy of the group, growing up,she fixed cars and had Rio's attention because she knew alot about "boy" things. Shana was a starlight girl and grew very close to Jerrica. She was shy and quiet, but has since then opened up and become the voice of reason for the Holograms. She's also a faboo fashion designer.Raya is a new addition to the group. Playing drums all her life, she tried out for the drummer position in the Holograms and won it.

The Stingers hit town!
Playing for pennies on the streets of Europe, The Stingers have come a long way, getting their HUGE break at Le Club Cool, they've since signed with Eric Raymond and operate from Stinger Sound. Riot is the lead singer, very sexy and egotistical, and he surely knows it. His sights are set on the lovely Jem, claiming "She will be mine!" Rapture is the best con artist there is, she's into magic and mystical theory and uses her knowledge to con people out of money, jewlery, or anything that suits her fancy. Minx, the lovely keyboardist claims she can get any man she wants, and that includes Rio, Jerrica's boyfriend. She'll stop at nothing to have him, and the fact that he rejects her makes her want him more!

The Misfits score big!
The Misfits really know how to party! When they're not cutting albums, they're out trying to make life hell for Jem and the Holograms. Another addition to the already troublesome Misfits is Jetta, the Raven haired sax player. She swears that she and the royal family are tight. She and Roxy have a history of not getting along together. Roxy is the mischevious gal of the group, she taught herself to play the guitar and never quite learned how to read. Stormer is the soft-hearted Misfit. She once quit the band and cut an album with Kimber of the Holograms, bonding her with Jem and the Holograms. Pizzazz is fabulously beautiful and filthy rich, always going to daddy when she needs anything, to which her father obliges to make her happy. All in all, a rounded group of "Misfits".
Vote for me!!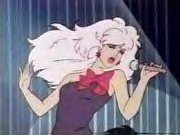 The JEM ROCK Website
This site is devoted to all the fans of Jem and the Holograms, The Misfits, The Stingers, and everyone else who was featured on the 80's cartoon JEM. We're trying hard to get Jem back on the air, but for now, you can get episodes anywhere from Amazon.com to Ebay. Rhino just released Volume 2 of the Jem videos in addition to Volume 1 that's been on sale for awhile. Keep buying and Rhino MAY release the WHOLE collection! Imagine not having to haggle over our old tapes with the wacky tracking! There's also numerous places to get the Jem dolls.I've found that Ebay is the best, selling nude dolls, completed dolls, Mint in the box dolls and even customized dolls. I would especially like to thank HOLLYWOOD JEM and other fine sites for the images on this site. They permitted the images and made it possible for this site to be up and running with its wonderful pics.
You are the




person to visit Jem ROCK!